John Rathjen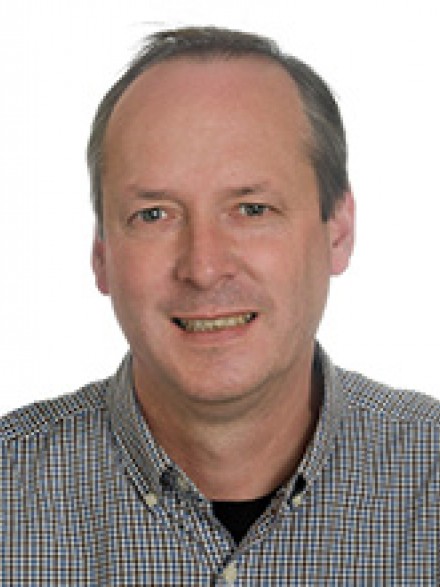 Contacts
Contact phone:
+61 2 6125 4584 (Office)
Location:
Rm 3.090, Level 3, Linnaeus Building (134)
Group membership
I am a biochemist with interests in all areas of plant immunity studied through various pathosystems. My lab has made important contributions on recognition of pathogens by plants, and suppression of host immunity by pathogens. My PhD was in plant virology at the Waite Campus, University of Adelaide, and I did postdoctoral work on tomato immunity at the University of California, Davis. Subsequently, I ran a research group studying tomato and Arabidopsis pathogens at the The Sainsbury Laboratory, Norwich, UK. I moved to ANU in 2009 with an ARC Future Fellowship and expanded my interests to include genomics of the biotrophic rust fungi of wheat.
I co-convene BIOL2162/6162 Molecular Gene Technology with Dr Tony Millar, and teach modules in BIOL3106 (Plant and Animal Bacterial Pathogenesis) and BIOL3107 (Structure and Function of Protein Kinases in Plant Immunity).
I am the Chair of the Plant User Group committee.
Research interests
Plant immunity
Plant-microbe interactions
Plant signal transduction
Recent grants
25/10/10 ARC Discovery DP110103322 'Molecular characterisation of the Prf bacterial recognition complex of tomato'. 36 months, $425,000.
3/6/2011 CSIRO OCE Postdoctoral Scheme (with Drs Ellis, Dodds, and Lawrence) 'Plant immune signalling'. 36 months, $276,000.
09/09/09 ARC Future Fellowship FT00992129 'Plant immunity to fungal and bacterial pathogens'. 48 months, $788,800. 09/09/09 CSIRO support for ARC Future Fellowship. 48 months, $200,000.
Selected publications
Direct transcriptional control of the Arabidopsis immune receptor FLS2 by the ethylene-dependent transcription factors EIN3 and EIL1
Author(s): BOUTROT, F; SEGONZAC, C; CHANG, KN; QIAO, H; ECKER, JR; ZIPFEL, C; RATHJEN, JP
Source: Proceedings of the National Academy of Sciences of the United States of America Volume: 107 Issue: 32 Pages: 14502-14507 Published: 2010
This paper shows an elegant, direct link between plant hormone signaling and immunity.
Plant immunity: towards an integrated view of plant-pathogen interactions
Author(s): DODDS, PN; RATHJEN, JP
Source: Nature Reviews Genetics Volume: 11 Issue: 8 Pages: 539-548 Published: 2010
A modern synthesis of the plant immunity field, highly cited, in a highly visible journal.
Host Inhibition of a Bacterial Virulence Effector Triggers Immunity to Infection
Author(s): NTOUKAKIS, V; MUCYN, TS; GIMENEZ-iBANEZ, S; GUTIERREZ, JR; JONES, AM; RATHJEN JP.
Source: SCIENCE Volume: 324 Issue: 5928 Pages: 784-787 Published: 2009
This high-impact publication is the first in plant or animal systems to show that the eukaryotic immune system can modify the enzymatic activity of an effector to nullify it.
AvrPtoB Targets the LysM Receptor Kinase CERK1 to Promote Bacterial Virulence on Plants
Author(s): GIMENEZ-IBANEZ, S; HANN, DR; NTOUKAKLS, V; PETUTSCHNIG, E; LIPKA, V; RATHJEN, JP.
Source: CURRENT BIOLOGY Volume: 19 Issue: 5 Pages: 423-429 Published: 2009
This paper defines a new recognition pathway in plant anti-bacterial immunity, and shows a novel mechanism for how it is targeted and suppressed by a pathogen virulence effector.
The receptor-like kinase SERK3/BAK1 is a central regulator of innate immunity in plants
Author(s): HEESE, A; HANN, DR; GIMENEZ-IBANEZ, S; JONES, AME; HE, K; LI, J; SCHROEDER, JI; PECK, SC; RATHJEN, JP
Source: PROCEEDINGS OF THE NATIONAL ACADEMY OF SCIENCES OF THE UNITED STATES OF AMERICA Volume: 104 Pages: 12217-12222 Published: 2007
BAK1 is of enormous significance to plant pathology. It mediates signalling by most plant extracellular perception systems, and underlies much of the work in the current proposal.
The tomato NBARC-LRR protein Prf interacts with Pto kinase in vivo to regulate specific plant immunity
Author(s): MUCYN, TS; CLEMENTE, A; ANDRIOTIS, VME; BALMUTH, AL; OLDROYD, GED; STASKAWICZ, BJ; RATHJEN, JP
Source: PLANT CELL Volume: 18 Issue: 10 Pages: 2792-2806 Published: OCT 2006
This paper changed our conception of one of the best-studied immune pathways in plants, and added evidence that the pathogen effector targets the immune receptor, not vice versa.
A patch of surface-exposed residues mediates negative regulation of immune signaling by tomato Pto kinase
Author(s): WU, AJ; ANDRIOTIS, VME; DURRANT, MC; RATHJEN, JP
Source: PLANT CELL Volume: 16 Issue: 10 Pages: 2809-2821 Published: OCT 2004
Early compelling evidence that the pathogen effector targets the immune receptor, not vice versa. The earliest examples of applying structural biology to problems of pathogen recognition.
Early signal transduction events in specific plant disease resistance
Author(s): RATHJEN, JP; MOFFETT, P
Source: CURRENT OPINION IN PLANT BIOLOGY Volume: 6 Issue: 4 Pages: 300-306 Published: AUG 2003
A well-received review which explored innovative concepts of pathogen recognition by plants.
Constitutively active Pto induces a Prf-dependent hypersensitive response in the absence of avrPto
Author(s): RATHJEN, JP; CHANG, JH; STASKAWICZ, BJ; MICHELMORE, RW
Source: EMBO JOURNAL Volume: 18 Issue: 12 Pages: 3232-3240 Published: JUN 15 1999
First example of an engineered plant resistance protein with constitutive signalling activity. First structural insights into recognition of pathogen effectors and control of immune signalling.
Molecular basis of gene-for-gene specificity in bacterial speck disease of tomato
Author(s): SCOFIELD, SR; TOBIAS, CM; RATHJEN, JP; CHANG, JH; LAVELLE, DT; MICHELMORE, RW; STASKAWICZ, BJ
Source: SCIENCE Volume: 274 Issue: 5295 Pages: 2063-2065 Published: DEC 20 1996
This paper with enormous impact was the first to show that a pathogen virulence effector is detected within the plant cell, via a direct interaction with a host immune protein.
All publications
Go to a complete list of publications on ResearcherID http://www.researcherid.com/rid/C-9327-2009