Games!
Fun games and videos! Test your skill!
Games (Ages 5+)
Parasite memory game
How good is your memory? How fast can you match the pairs of parasites? 
Games (Ages 10+ to adult)
Match the parasite with its host
Match the parasite to the disease it causes, or the host it infects!
» Play Match the parasite
Kill the parasites
Drag the correct drug and drop it on the parasite to kill it!
» Play Kill the parasites
Routes of infection
How does the parasite get into your body? Drag and drop the parasites from their sources to their sites of infection! For extra clues, hover your mouse over the parasite pictures!
» Play Routes of infection
Beyond the scary parasites
Welcome to our quiz about beneficial and useful parasites!
» Start the 'Beyond the scary parasites' quiz
Parasite detective
People are getting sick with strange symptoms. They're relying on you for a diagnosis! But how can you tell if they have a parasite?
What parasite are you?
You're a parasite! Choose how to infect your host, where to live in your host's body, and how to evade your host's immune system to learn what parasite you are!
Toxo lab 360 tour
Have you ever been inside a laboratory? Come on a tour of the Toxo lab at the ANU!
Videos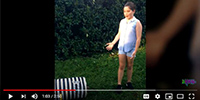 Leech speech! 
Did you know leeches have ring-shaped muscles? And that they make peace-sign or star-shaped bite marks? 
This National ScienceWeek 2021 site is supported by
 The Australian National University and The Australian Society for Parasitology 
The ANU Parasitology students acknowledge funding from SEEF (Student Extracurricular Enrichment Fund).  
  Parasitologists contributing to this site: Jeremy Dubrulle, Margot Schneider, Samantha Shippley, Tunan (Nicole) Yu (undergraduate students), Soraya Zwahlen and Cibelly Goulart (van Dooren group), Merryn Fraser (Maier group), Sarah Shafik and Sashika Richards (Martin group) and Melanie Rug (Centre for Advanced Microscopy), and Geil van Dooren, as well as Christina Spry (Saliba group) and Alex Maier, who worked with Sharyn Wragg (webmaster) to put the site together.